Two years have almost passed. Thanks to our co-creation events, the SignON consortium has a clearer picture of what the wishes and expectations of the potential users of the SignON application and service are. Watch the video below in International Sign or your national sign language for updated information about the SignON project.
IS
BSL
LTE
ISL
NGT
VGT
As we approach the end of 2022, the SignON project has almost competed its second year. In the video below, discover what the SignON consortium has achieved over the last 12 months. We wish you happ holidays and a happy new year 2023!
In our video serie "The SignON Forum" we invite everyone to share their questions, concerns, comments, or ideas with us. Now it's Liesl Deforche's turn! We encourage all of you to join our discussion in your preferred language. Feel free to share your video to signon-comms@adaptcentre.ie
On the 7th of November we organised another internal seminar. Ruth Holmes (University College Dublin) took us through the UCD research on Signer Independent Sign Language Recognition. Sign language recognition comes with a number of significant challenges, including potential influences on real world recap and a lack of signer variety in the dataset. That is why the research was based on a specific dataset of ISL hand gestures signed by 6 individuals and with variety in input representation. Each hand gesture was described by 21 keypoints and trained on a variety of individuals. Different finetuning strategies led to different effects on generalisation in sign language recognition. Often there was bias and misclassification of signs. We remember that sign language recognition is still very much a work in progress and are glad to have some suggestions on how to move the research forward. Thanks, Ruth, for sharing this with us.
Caro Brosens (VGTC) shared some insight into describing lexicon of sign languages at our October 19, 2022 internal seminar. She explained in clear terms how sign language researchers are working on lexicography and lemmatization, the obstacles and challenges involved, and the current state of research for sign lexicography in Flanders. Caro always provided links to examples of lexicography in spoken languages, which made the presentation very understandable and relatable to all. We especially remember that mistakes and inconsistencies quickly sneak into lexical databases, and that different researchers with different datasets in different languages may each have differing lexicographical approaches as well. That is something to keep in mind for anyone taking such datasets as a basis for further research or applications. Many thanks to Caro for the insightful lecture.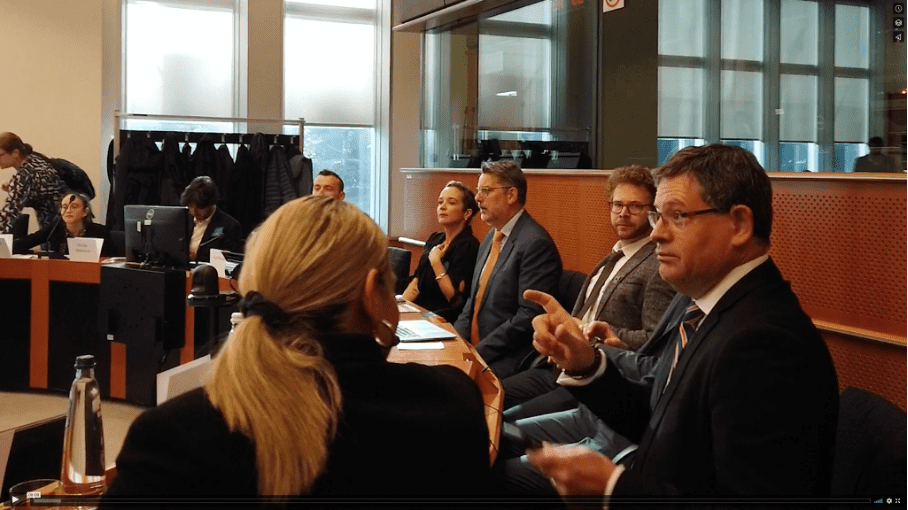 At the invitation of the non-Attached Member of the European Parliament, Ádám Kósa, the SignON project had the opportunity to organise a workshop in the European Parliament on the 28th of September 2022. We presented the technological advances achieved in the project to date as well as the social benefit and impact on the deaf, hard of hearing and hearing stakeholders. Read our press release about this event in English: https://signon-project.eu/.../09/SignON-EP-Press-release.pdf
Or watch the video in International Sign: https://vimeo.com/755587891
On July 1st we had our last internal seminar before the summer break. This time Shaun O'Boyle (DCU) updated us on his work within the SignON project. As Science Communication expert, Shaun emphasized the importance of the co-creation principle and the participation of both scientists and user groups to the project. CBPR is an approach to research where researchers and community members share power, resources and decision-making at every level of the research process. We already apply many of the CBPR tools within SignON, such as co-creation, surveys, focus groups, workshops, etc. Still, there are opportunities to use more of CBPR to better understand the dynamics in SignON, to complement existing methods and to improve our own practice. And that is exactly why Shaun introduced us to an interesting experiment to be conducted soon in Dublin. It is all about giving people an unexpected experience, followed by a discussion on the role of AI in life. Will be continued. We are all very excited to bring this experiment forward!
A name sign is given by deaf people to a person, organisation, company, event, brand or place. Rather than completely fingerspelling a name, one compact sign is used, which is part of deaf culture.
Over the past months, SignON was given three different name signs by deaf people in Europe. On 24 May we presented these three options on our social media channels and asked our followers to vote for their favourite sign. We then picked a winner. Are you curious? Check the video below and find out which name sign was chosen!
The SignON project now having a name sign means that it is being talked about within the deaf communities. We are delighted about this because we attach great importance to the co-creation process with our target groups within our project.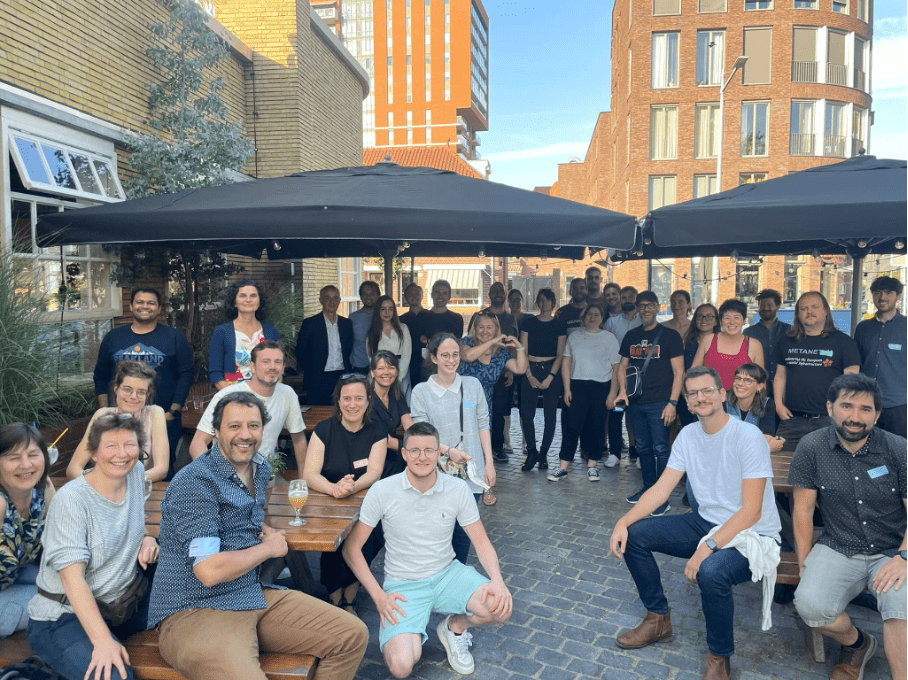 After several local face-to-face meetings in recent months, the entire SignON consortium gathered for the first time on the 15th and 16th June in Tilburg University (The Netherlands). It was a very pleasant experience to meet everyone in person, to give and/or attend presentations, to discuss and brainstorm, and of course to have a nice dinner together! Worth repearting!
On the 28th of March we organised our 4th internal seminar. Rachel Moiselle (Trinity College Dublin) updated us on Depiction in Irish Sign Language. Depiction is a linguistic phenomenon which is defined as the ability to provide information about what an entity/event is like. Rachel shared the first research results on new vocabulary in Irish Sign Language, which is developing at high pace especially in the fields of the COVID-19 pandemic, STEM, politics and race/ethnicity. The research on new vocabulary includes a depiction analysis, in which various depiction strategies using were defined using a gesture studies approach. The first analysis results show a high incidence rate of depiction. In a next research phase, data analysis of the new terminology will be continued, as well as the role of depiction within this. Depiction strategies are also important to define for the purposes of the SignON project. As sign languages are embodied and multi-model, they are an interesting research object with regard to machine translation. Thanks, Rachel, for the interesting lecture on new vocabulary and depiction.